Following the acquisition of AxelaCare, OptumRx engaged our team to completely rethink the infusion services process, spanning from the initial referral to the culmination of treatment. AxelaCare had long been a lifeline for patients with intricate diagnoses, offering essential medications. To enhance this service, our first step was comprehending all end users, including the corporate group, office staff, and medical personnel through user interviews.
Empathetic Exploration and Workflow Enhancement: Unveiling Office Workers' Challenges
In order to empathize with the challenges faced by office workers, we observed them while they carried out the intake process at their desks. With a comprehensive understanding of the entire customer journey, we proceeded to create individual workflow diagrams for each session, gradually piecing together the complete process. It became evident that a significant number of office employees relied on numerous programs and screens to effectively complete their tasks.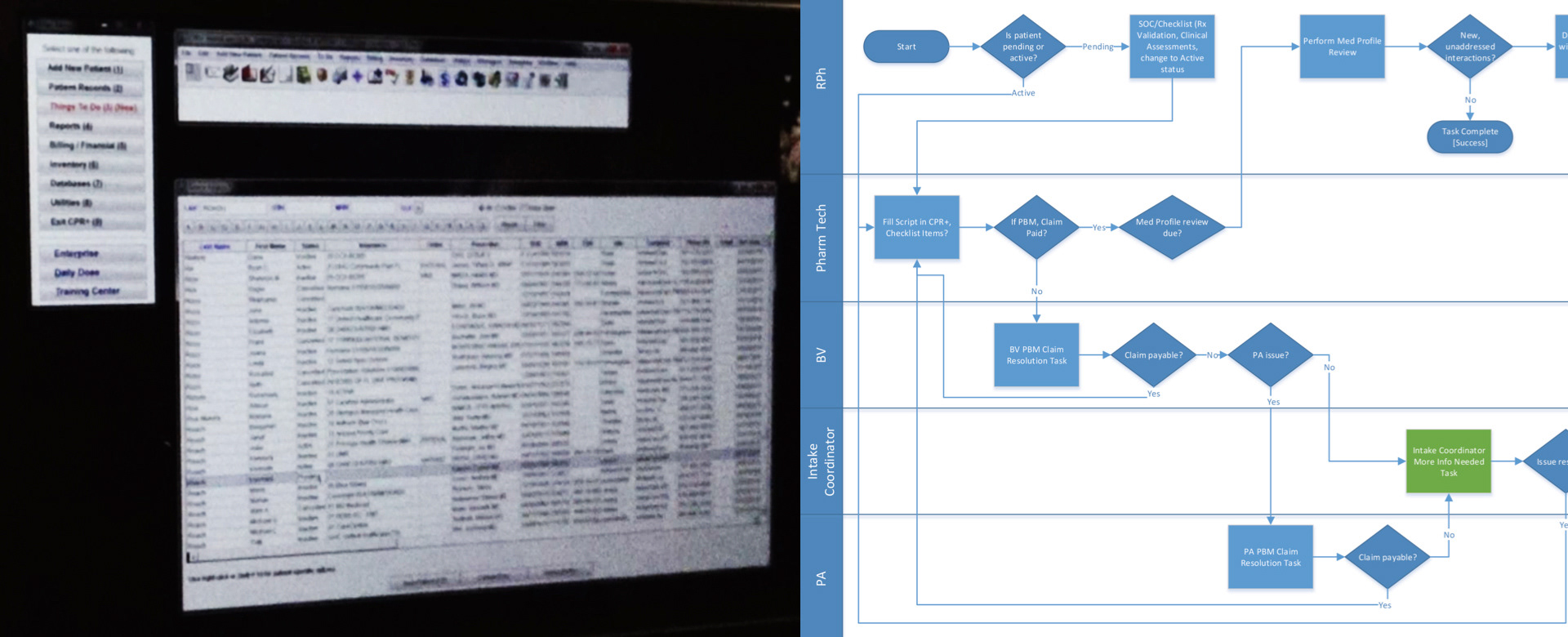 Streamlining Automation: Enhancing Processes Through Pattern Recognition and Standardized Forms​​​​​​​
With a clear understanding of the process, we explored strategies to automate repetitive tasks by leveraging pattern recognition. At that time, users were still submitting open-answer questions, which posed a challenge for automation. The revised forms exclusively allowed radio buttons, checkboxes, and dropdowns. This alteration standardized employee responses and empowered the automation software to anticipate subsequent steps.
Elevating Desktop User Experience: Simplifying Tasks Through Unified Workflow Integration​​​​​​​
Centering our efforts on office employees, we primarily targeted the desktop user experience. Informed by our qualitative research, we pinpointed the major frustration of using multiple desktop applications for a single task. To address this challenge, we established a solution by interconnecting all data using APIs into a unified workflow platform.
Unveiling Insights: Harnessing Behavioral Tests for User-Centric Design​​​​​​​
Among user studies, behavioral tests stand out as my preferred method. These tests yield a wealth of insights even with a limited participant pool. In the video provided, a user identifies an issue with the date picker. Our initial assumption was that participants would use the calendar dropdown, but this user manually entered the date, revealing an unforeseen behavior. It's remarkable how even seemingly mundane actions can uncover valuable information. Empowered by this discovery, we enhanced the date picker to automatically include slashes when a user manually enters a date.
Fostering Creativity: Exploring Design Inspiration for Innovative UI Solutions​​​​​​​
When seeking creativity during the contemplation of the user interface, a straightforward approach involves exploring inspirational designs. Dribbble, Pinterest, and Behance serve as excellent social platforms for uncovering motivational content. With a wealth of ideas at hand, we engaged in iterative design compositions and conducted desirability studies to efficiently generate multiple design options.
Nationwide Collaboration: AxelaCare's User Acceptance Testing Advances Workflow Automation​​​​​​​
Representatives from AxelaCare across the nation participated in the CareLink 2.0 workflow user acceptance testing session. This session enabled our teams to collect valuable application feedback, collaborate on both current and upcoming processes, and further advance our journey with workflow automation.
Revolutionizing Workflow: Transitioning to Tablet-Based Forms for Field Nurses​​​​​​​
Upon successfully persuading OptumRx to acquire tablets for every field nurse, we proceeded to create an application housing all forms within a single, accessible platform. This endeavor necessitated the conversion of all physical forms into user-friendly digital formats.
Simplifying Form Access: Crafting a Flexible System for Nurses' Needs​​​​​​​
For efficient form management, our initial task was to design a system that allowed nurses to readily search and locate the required forms for patients. Given the regular addition of new forms, a flexible system was imperative.
Seamless Integration: Empowering Nurses with Digital Interface and Tablet Efficiency​​​​​​​
Through a digital interface, nurses gained access to forms, patient data, and notes from previous caregivers. The tablet minimized duplication by instantly transferring the nurse's previously handwritten notes to a secure network.
Following the implementation of the comprehensive solution across 44 states, OptumRx experienced favorable results in terms of speed, efficiency, and revenue generation. Patient fulfillment speed saw a remarkable 64% improvement, cutting down a 28-day cycle to just 9 days, while earnings surged by 4 times with only a 25% rise in overhead costs.